Whiplash Reforms - Case Data Uploads - New Injury Types
Published: 12 May 2021
In readiness for the whiplash reforms due on 31 May 2021 and to support the expansion of MedCo into non-soft tissue injury claims additional injury types have been added when uploading case data.
An updated CSV template file and data validation document is now available. Please note there are no changes to the method(s) for uploading case data.
What is changing?
New injury types are being added to enable Direct Medical Experts and Medical Reporting Organisations to indicate injuries to additional parts of the body. These include
Head
Chest
Wrist/Hand
Ankle/Foot
Arm
Leg
More details can be found in the new Data Validation Document. 
When is the change happening?
The change is effective for case data uploaded on or after 31 May 2021.
What does this mean for me?
If you upload case data via your account using the manual method, the new additional injury types will be displayed and can be selected when diagnosing and adding an injury.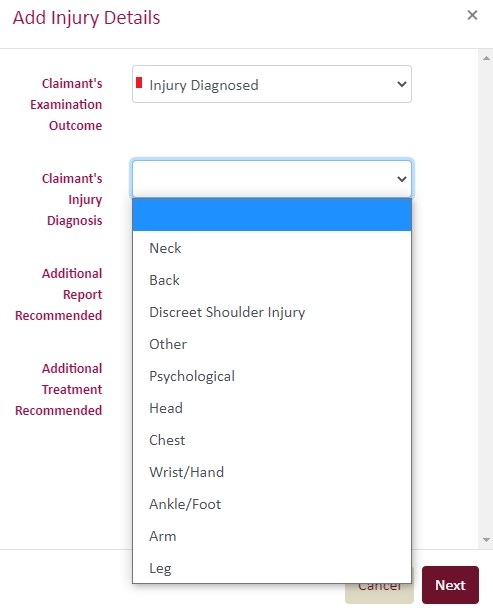 Simply complete the Injury detail fields as part of your regular manual uploads. A step by step 'How to Guide' can be found here.  Please note: there are no amendments to this guide as the only change relates to the number of injury types available for selection. There are no changes to the way in which you complete the information for each injury type.
If you upload using the bulk csv file, the new injury types have been added to the Injury diagnosis  column  (Row "I").  A new template CSV file showing the codes for each of the new injury types for uploads on or after 31 May 2021 can be found here.
Additional information for CSV bulk users:
Existing CSV file uploads and templates will be accepted after 31 May 2021.
It is important to remember that if more than 1 injury is stated in column G, please provide examination outcome/diagnosis/treatment/prognosis information as set out in columns H to N for each of the injuries.                                         
If you have any enquiries please contact our helpdesk [email protected]